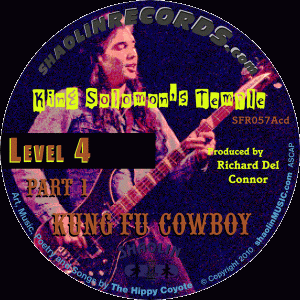 I was explaining to someone yesterday about my original designs for my websites and how far away I am from developing some of the INTERACTIVE aspects of my websites. Someday, I hope to hire some web designers who can program and create my visions.
This COYOTERADIO.TV website is a mere shadow of my plan. But, that shadow is not professionally complete yet. So I will continue to build the SHOPPING CART with cool products. I have changed the design several times from linking all products to other websites like www.ShaolinPictures.com or www.ShaolinRecords.com or the book publisher at www.ShaolinCommunications.com
Those are three PRIMARY WEBSITES with some duplication of products offered on the different sites. This way, you could shop on ONE WEBSITE entirely.
Then, I built individual websites for the products like, www.TaiChiMagic.com
None of those product websites have succeeded. I've abandoned and disowned a dozen of them to cut expenses.
Here's another one I will keep, www.CoyoteRadioTujunga.com
The music from the TAI CHI MAGIC 1 album by Buddha Zhen is released on Shaolin Records. But Buddha Zhen plays Kung Fu and Tai Chi Chuan and Meditation Music… so his repertoire will be at www.ShaolinZen.TV
So ROCK AND ROLL MUSIC: www.CoyoteRadio.TV
And KUNG FU MUSIC: www.ShaolinZen.TV
That's it. Two television stations. One perhaps less romantic and one more adventurous.
I've had some ideas for this www.CoyoteRadio.TV BLOGS…
Then I decided I would just post when I release a music video in the website. Or when an album is released?
I'm going to take a break now and think about it. I'm locking myself into weekly responsibilities that include weekly postings.
I've got another idea… Post poetry readings performed live for the blog?